Watch the video here:
XYLOBANDS™ BRINGING YOUR EVENT TO LIFE!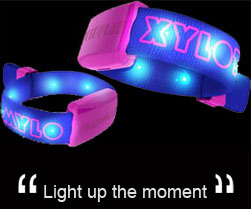 Xylobands™ are a new unique marketing product. Coldplay is using these amazing bands as a way to bring the audience into their show, and light up the crowd in a way NO-ONE has ever seen before.
Xylobands™ can carry your brand and your message. They can be used at music events, sporting events, festivals, parties and corporate events – the possibilities are endless.
Product Information
Xylobands™ are LED wristbands you can control.
You can vary the speed of flashing, including on/off, and also control which colours are flashing.
Xyloband™ strap and LED colours are currently available in, green, blue, yellow, red, pink and white.
A white strap will show all LED colours clearly – the LED light colour will not show until the LED is on.
The case colours are currently pink or blue for orders under 50,000 – any colour for larger orders.
How do they work?
Xylobands™ are operated using our proprietary software that can be downloaded onto your laptop.
The laptop would be connected by cable to a transmitter box and antenna. These are supplied by us on a free rental basis with a £500 refundable deposit.
We can supply set up and operating personnel, or alternatively, you can do this yourself.